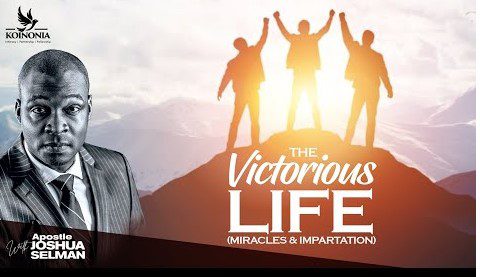 Introduction:
Good evening, beloved brethren. Tonight, we gather with a shared purpose – to delve into the profound implications of the victory we have received through our union with Christ. The scripture that anchors our exploration is found in 2 Corinthians 2:14 KJV: "Now thanks be unto God, which always causes us to triumph in Christ…". The Victorious Life (Miracles & Impartation) by Apostle Joshua Selman
The Victorious Life (Miracles & Impartation) by Apostle Joshua Selman
I. A Life of Victory and Excellence:
As believers, we are called to a life of victory and excellence. Our identity as the chosen ones is affirmed in 1 Peter 2:9 KJV and Revelation 5:10 KJV. In Matthew 5:13-16 KJV, we are reminded that we are the salt and light of the world, called to make a lasting impact. The longevity of our impact is highlighted in John 15:8,16 KJV. We are God's masterpiece, created for good works (Ephesians 2:10 KJV), and our very existence showcases the wisdom of God (Ephesians 3:10 KJV). The abundant life promised by Christ in John 10:10 KJV and the wisdom of John the Baptist in John 3:30-31 KJV encourage us to embrace the fullness of this victorious life.
II. Embracing Your Spiritual DNA:
Beloved, let not guilt cloud your pursuit of victory. Within your spiritual DNA, a code of triumph is embedded. Your spiritual heritage in Christ empowers you to walk and abide in victory.
III. Factors for Experiencing Victory:
Tonight, let's examine four factors that position believers to experience invincibility and victory:
1. Confidence in God's Word:
Our confidence rests upon God's eternal truths. Despite the world's wickedness, we stand strong in the knowledge and revelation of His Word. John 1:5 KJV illuminates this, and Galatians 2:2 KJV calls us to clarity in understanding.
2. Faith as a Construct:
Your faith is the sum of your beliefs, the framework of your spiritual understanding (1 John 5:4 KJV). It empowers your victory over the world.
3. Awareness of God's Power:
Our victory is rooted in the understanding that God is all-powerful. Psalm 62:11 KJV and Jeremiah 32:17 KJV testify to His omnipotence. Extraordinary individuals are those who've connected with a supernatural God, and their obedience flows from faith, not fear.
4. Partakers of Divine Nature:
Our togetherness with Christ makes us partakers of His victory over sin, death, hell, principalities, and powers. This has two vital implications:
– Oneness (Union):
Ephesians 2:4-6 KJV reveals our positional advantage, seated with Christ.
– Access to the Holy Spirit:
The Holy Spirit is our divine helper, guiding, directing, revealing, and empowering us. Acts 10:38 KJV highlights His role.
IV. Building Intimacy with the Holy Spirit:
To embrace our victory, we must cultivate intimacy with the Holy Spirit. This requires:
1. Dedicated Prayer:
Engage in fervent, spirit-led prayer.
2. Consistent Worship:
Create an atmosphere of intense worship.
3. Hunger for His Presence:
Develop a hunger marked by brokenness.
V. The Power of God's Promises:
Through 2 Peter 1:2-4 KJV, we see that God has given us precious promises, including:
1. Promises:
His commitment to us.
2. Principles:
The modus operandi of His kingdom.
3. Prophecies:
A roadmap into the future.
VI. Prayer and the Word:
Understand that God acts according to His Word. Genesis 21:1 KJV illustrates that God fulfills His spoken promises. Our prayers should align with scripture for fruitful results. Deuteronomy 28:1-2 KJV echoes this truth.
VII. The Scriptural Path to Victory:
God's compassion meets His commitment. He acts as He has spoken (Genesis 21:1 KJV). Our victory stems from scriptural alignment. Walking in victory is grounded in the knowledge that we've been given great and precious promises.
Conclusion:
Beloved, as we depart tonight, may the echoes of this teaching resonate in your hearts. Know that victory is woven into your very existence in Christ. Embrace the factors that position you in the sphere of invincibility. Cultivate intimacy with the Holy Spirit and build your life on the bedrock of God's Word. As you journey through life, remember that God's promises are your steadfast guide to a triumphant life. May we all walk in the victory that has been freely given to us in Christ. Amen.
other links: